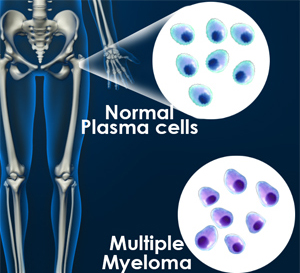 What is Multiple Myeloma?
Multiple myeloma is a rare form of cancer that affects the plasma cells in your bone marrow which play a key role in maintaining a strong immune system. These cancerous plasma cells reproduce rapidly to suppress the growth of healthy bone marrow cells resulting in weakened immunity. The cells also produce abnormal antibodies that can cause organ damage and other serious complications.
What is Amyloidosis?
Amyloidosis is a rare disease characterized by the deposition of an abnormal protein known as amyloid in the organs and tissues. Over time, these protein deposits can lead to organ failure. Although amyloidosis is not a form of cancer, it affects about 15% of patients diagnosed with multiple myeloma.
Symptoms of Multiple Myeloma and Amyloidosis
Signs and symptoms of multiple myeloma include:
Bone pain, commonly affecting the pelvis, back, ribs, and skull
Increased susceptibility to bone injuries and fractures
High levels of calcium in the blood, which comes from affected bones
Renal failure
Anemia
Signs and symptoms of amyloidosis include:
Bone and joint pain
Shortness of breath
Anemia
Changes in skin color
Fatigue and weakness
Renal failure
Weight loss
Diagnosis of Multiple Myeloma and Amyloidosis
Your doctor will discuss your symptoms, perform a physical examination, and order diagnostic tests that include:
Blood and urine tests to check for anemia, hypercalcemia (high blood calcium levels), abnormal blood urea nitrogen (BUN), or creatinine levels (indicators of kidney problems), or abnormal protein levels.
X-rays, CT, MRI, or PET scans to check for damaged bone, organ, and soft tissues.
Biopsy of bone marrow or organ tissue to look for an abnormally high count of plasma cells or abnormal protein deposits.
Treatment of Multiple Myeloma and Amyloidosis
Depending on the diagnosis and severity of the condition, the various treatment options include:
Chemotherapy: This involves use of special chemicals to destroy abnormal cells.
Steroid therapy: These medications help reduce inflammation in the tissues.
Radiation Therapy: This involves the use of high-energy beams or materials to destroy cancer cells.
Immunotherapy: This involves the use of drugs that help strengthen the cells of the immune system.
Targeted Therapy: This involves the use of drugs that specifically target any weakness in the abnormal cells, minimizing damage to healthy tissue.
Stem Cell Transplant: Stem cells may be obtained either from your own body prior to chemotherapy or from a donor and then transplanted back into your body to help replace the destroyed bone marrow.
Organ Transplant: Kidney or liver transplant may sometimes be recommended in cases of organ failure.